Grant Administration System
Version 2.5
The Grant Administration System allows our staff to manage and maintain grants across a wide range of projects and airports. All grant information is stored within a database allowing us to create charts, reports and receive notifications when certain milestones arise.
Request More Information

Quick Access to Grants by Year
Find and manage grant applications quickly
Benefits
Manages all aspects of FAA Grants from Grant Applications to Grant Closeout
All Grant information is located and tracked in one location
Makes the grant process easier and more seamless
Has the ability to generate charts and reports such as:

Number of Open Grants
Number of Closed Grants
Status of Grant Applications
Grant Activity
Dollar values for total of all grants, amount requested, and balance grants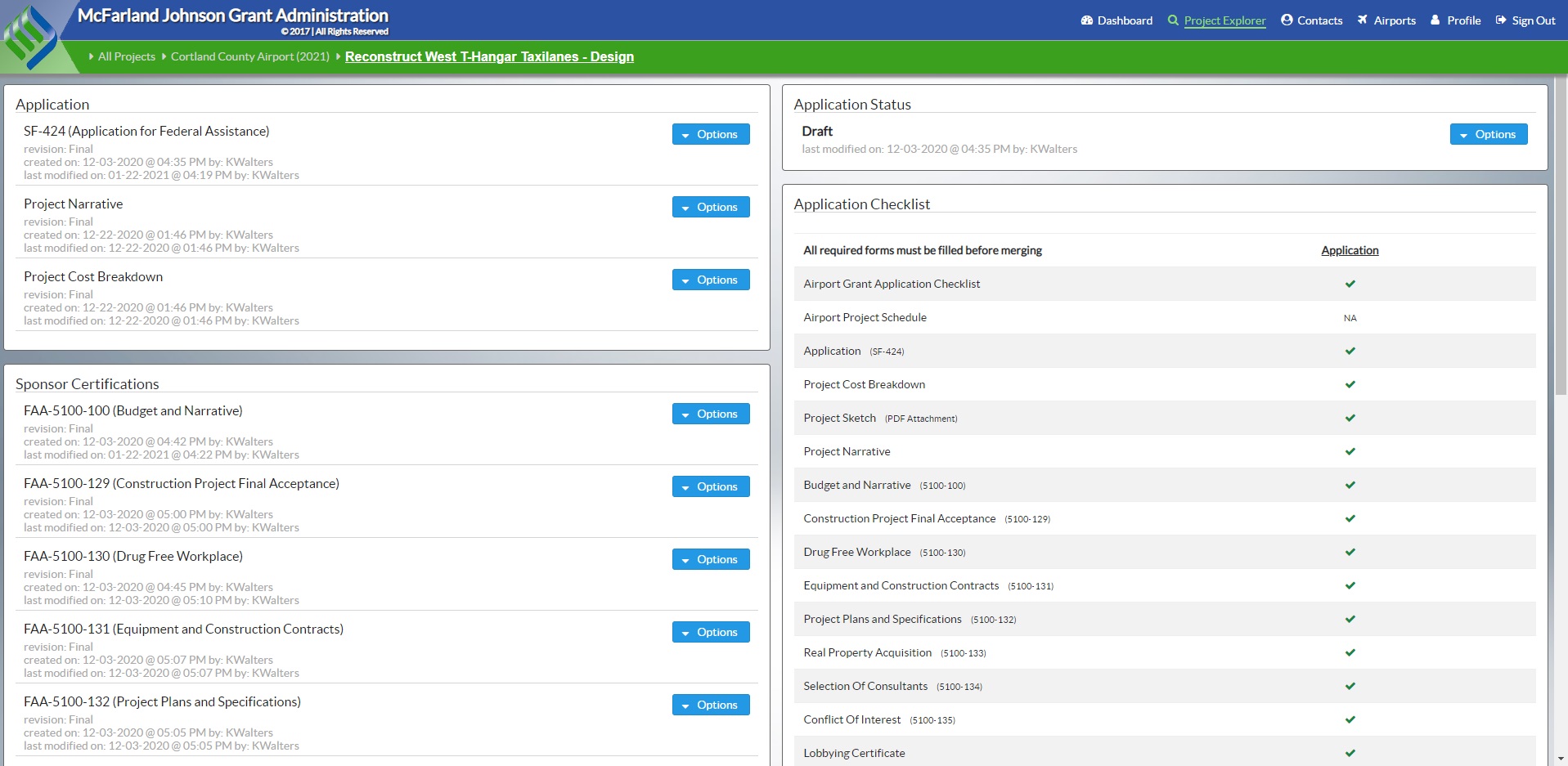 Manage All Grant Forms And Checklists
Simplified Form Management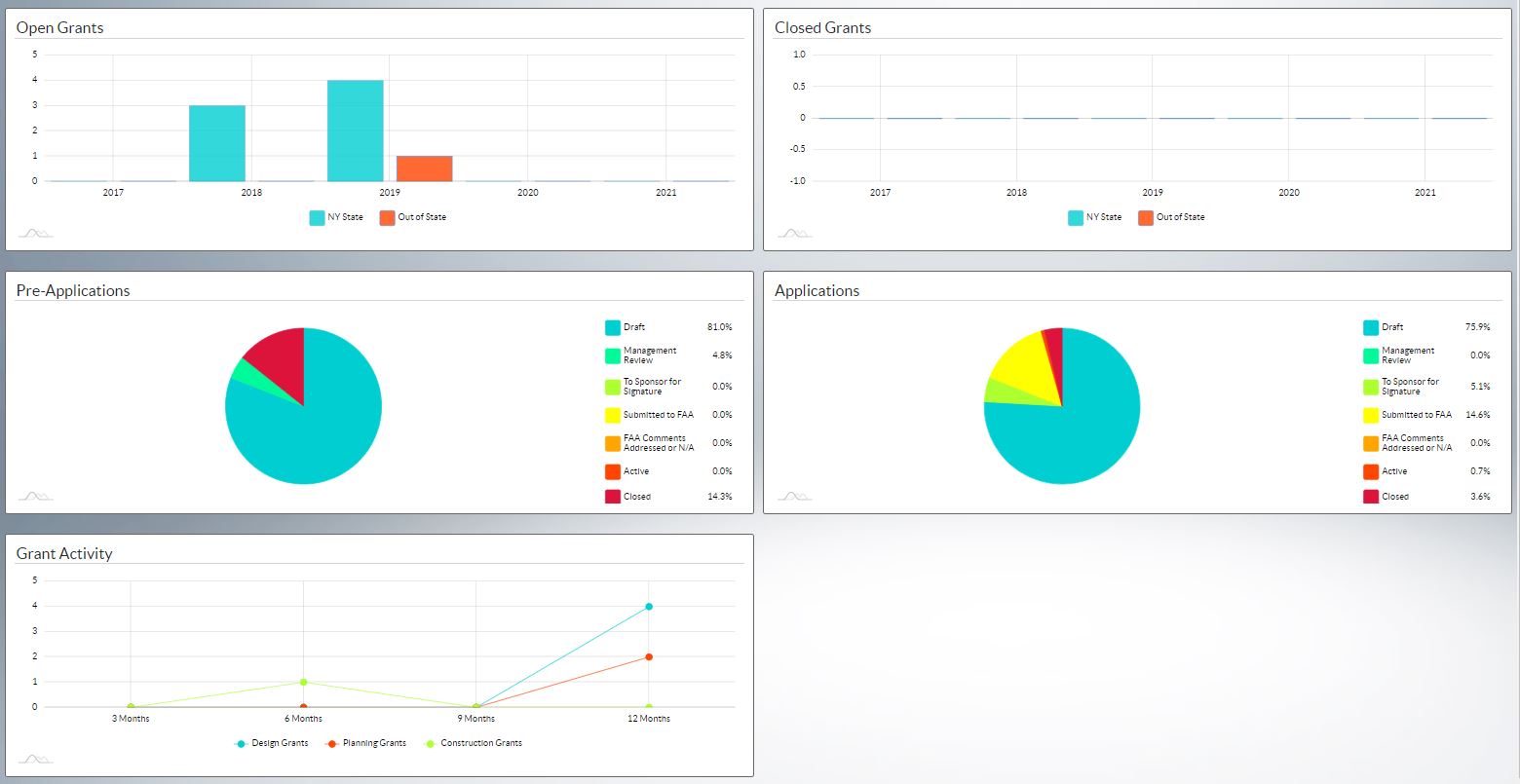 Grant Administration Dashboard
View a summary of current grant statuses
Features
Features to Assist with the preparation of FAA Grant Applications include:

A checklist of required FAA Grant Application documents
All required FAA Standard Forms are available
Additional required documentation can be uploaded and attached to the application within the system
With the click of a button, merges all completed and uploaded documents into on convenient PDF document
Modify the application after it is merged allowing the ability to not include some documents and re-order documents
Track the status of Grant Applications

Prepare and track reimbursement requests using the following:

Uses a Cumulative Invoice Summary to track all invoices to date
An Invoice Summary is generated based on the invoices entered for a reimbursement request
A Standard Form 271 or 270 is generated based on the invoices entered with totals linked to the Cumulative Invoice Summary
Invoices can be uploaded and attached to the reimbursement request
Provides updated total amount requested for reimbursement along with the balance of the grant
Tracks the status of reimbursement requests

Simplify the Grant closeout process:

Reimbursements are tracked cumulatively, making the grant closeout process easy
Includes all FAA required closeout documents
Additional required closeout documentation, including invoices, can be uploaded and attached

The annual Federal Financial Report (Standard Form 425) is generated with the push of a button based on reimbursements processed during the year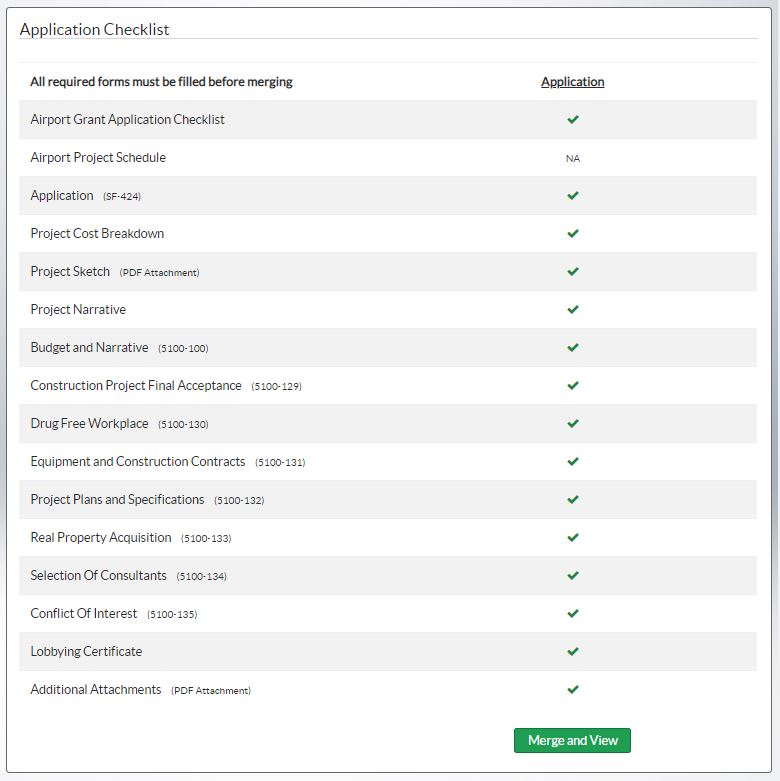 Handy Checklist for Completing Grants
Use the responsive checklist to guide you through grant completion
Compatibility
All of our solutions require web browser access and conform to the latest modern standards. It is necessary to use a browser that is compatible with these standards so that all functionality can be ensured. InfraSolutions strongly suggests the use of the Google Chrome browser, but you can find a list of all supported browsers in the grid below.












×
×
×
×