Bridge Maintenance Tool
Version 1.0
InfraSolutions' Bridge Maintenance Tool is a cloud-based interactive program used to track, manage, and program bridge maintenance projects. The application allows the user to prioritize and plan their bridge maintenance programs using bridge specific parameters such as condition, geography, traffic volume, bridge type, and bridge maintenance activity cycles. This tool can be customized to add other important parameters to meet specific state or municipal agency needs.
This Bridge Maintenance tool includes maps with geolocated bridges, an inventory dashboard used to monitor structural condition, and the ability to generate reports to show user defined data. InfraSolutions' Bridge Maintenance Tool provides an effective and quantitative approach to monitor the condition of bridge inventories and measures the benefit of bridge maintenance programs.
Request More Information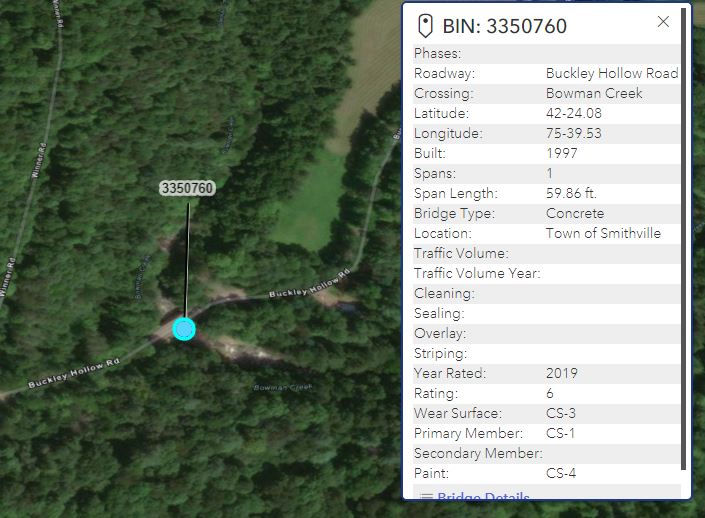 View Bridge Details on Map
Instantly get a summary of any bridge
Benefits
Provides tracking and ability to visualize return on investment of bridge maintenance projects
DPWs easily communicate funding needs to the public and government officials
Offers an effective and quantitative approach to developing long-term bridge preservation strategies
Aids in reducing bridge life-cycle costs and maximizing bridge service life through implementation and tracking of bridge maintenance projects
Provides an easy-to-use bridge data system for archiving and organizing record plans, load ratings, and vital bridge information
Cloud-based application provides owners with remote access
Interactive Bridge Map
Find and view bridge details geographically
Features
At-a-glance Inventory Condition monitoring and programming of Bridge Maintenance Projects
Easy to use GIS Maps with bridge reports and plans
Bridge dashboard provides owners with a snapshot of inventory-wide bridge conditions
Generates customizable reports to document the effectiveness of maintenance programs
Original source data imported from state bridge inspection reports
Easy to upload plans, load ratings, and inspection reports repository management/organized asset management
Easily customized to suit the specific needs of bridge owners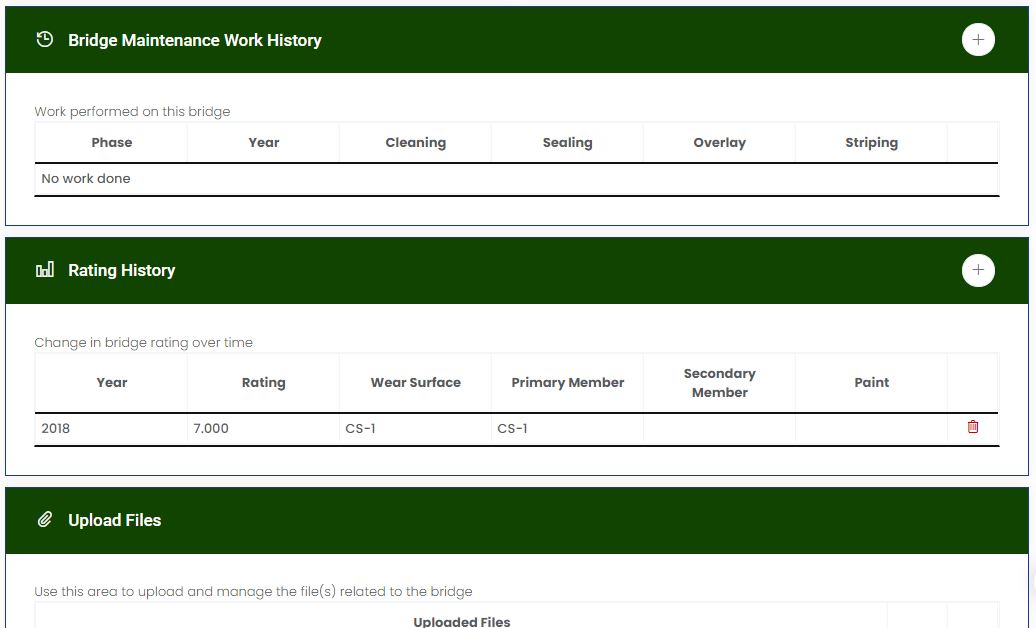 Manage Bridge Work History, Load Ratings, and Document Repository
Quickly view and manage bridge information
Compatibility
All of our solutions require web browser access and conform to the latest modern standards. It is necessary to use a browser that is compatible with these standards so that all functionality can be ensured. InfraSolutions strongly suggests the use of the Google Chrome browser, but you can find a list of all supported browsers in the grid below.












×
×
×
×