Pavement Management System
Version 1.1
InfraSolution's Pavement Management System can be a very effective tool that allows both individual airports and funding agencies to establish priorities and programs to address the required rehabilitation of airfield pavements. An effective system starts with experienced personnel who are familiar with the components necessary to establish a program baseline and the use of an interactive tool that allows the program to be easily updated and maintained.
InfraSolution's Pavement Management tool allows for one or more airport administrators to access elements of their airport pavement condition quickly and easily. The system is cloud based, allows for hosted data and document management, and can be viewed on a variety of devices. The tool includes interactive GIS mapping (2D and 3D) provided through collaboration with ESRI ™ (a proven leader in GIS mapping software). Pavement deterioration can be tracked and monitored using InfraSolution's prediction model. It also includes cooperative Capital Improvement Planning (CIP) capability along with a comprehensive set of up-to-date visuals and reports.
Request More Information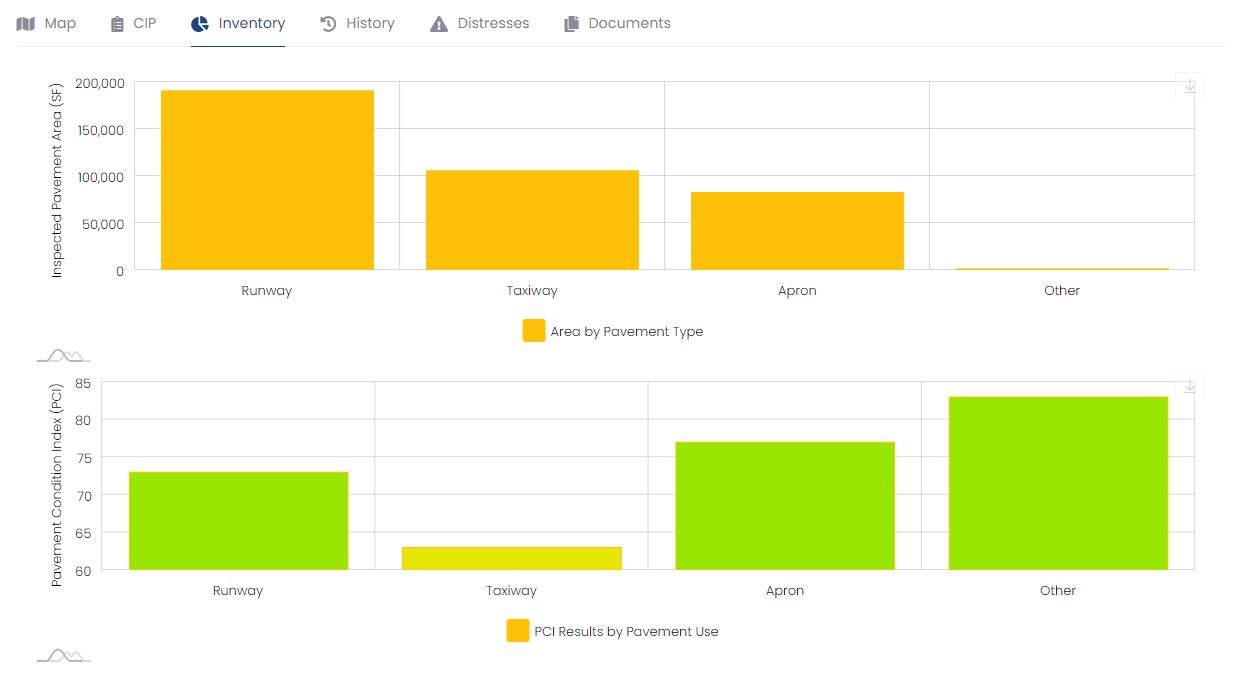 Display Pavement Information in Useful Charts
Quickly summarize the state of your airport's pavement
Features
GIS map based on data from FAA's Micro-PAVER software
Proactively manage pavement at your airport
Predictive modeling tracks and monitors pavement deterioration
Organizes pavement construction histories, record plans, and maintenance activities
Document repository management with up-to-date visuals and reports
Customize to meet your airport's needs
Modules can be added as needed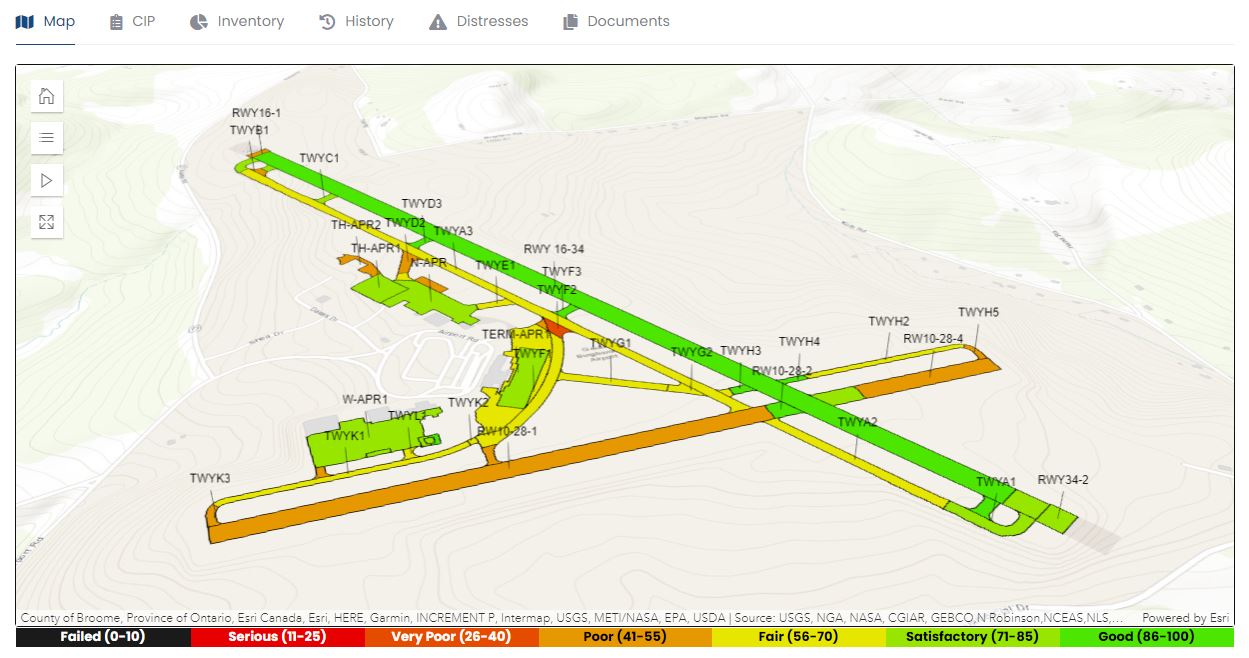 Interactive Pavement Map
Find section-specific information like distresses and work history
Benefits
Proactively manage the pavements at your airport
Pavement histories, maintenance plans and conditions are available at the click of a button
Excellent tool for public outreach and agency coordination
Easily integrated with your Airport Capital Improvement Plan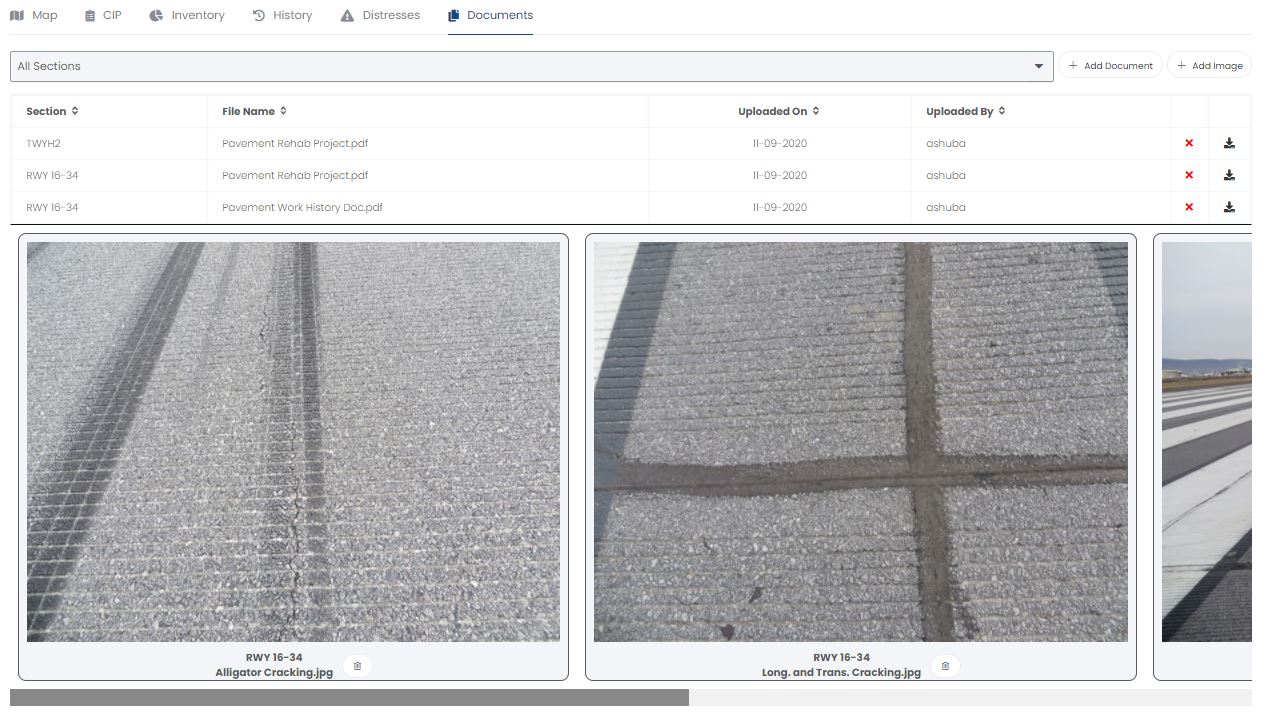 Attach Documents to Pavement Sections
Manage associated files and images
Experience
InfraSolutions has been involved with establishing individual programs for airport clients of all sizes, as well as establishing and updating statewide system programs. Our personnel have experience in every phase of the Pavement Management System program, including the population of databases with critical baseline information such as existing pavement structures, maintenance histories, and traffic data. We have experienced pavement field inspectors that can identify the types and extent of pavement deterioration present, and translate that information into a standard Pavement Conditions Index (PCI) for programming purposes. We have experience using computer programs such as the FAA's Micro-PAVER to populate databases, present current conditions, predict future conditions, and establish schedules for updates. We can also expand this information to include economic analysis and program budgeting, a critical component in establishing cost-effective programs to address the rehabilitation of airfield pavements.
Compatibility
All of our solutions require web browser access and conform to the latest modern standards. It is necessary to use a browser that is compatible with these standards so that all functionality can be ensured. InfraSolutions strongly suggests the use of the Google Chrome browser, but you can find a list of all supported browsers in the grid below.












×
×
×
×