Land Development Tool
Version 1.0
InfraSolutions' Land Development and Lease Management Tool quickly analyzes potential development scenarios and financial outcomes to provide a powerful real estate management tool that allows airports to respond quickly to potential real estate development opportunities.
InfraSolutions has developed an innovative, integrated tool that introduces unmatched functionality to traditional land planning and lease management, providing airport management with enhanced real estate portfolio and lease management capabilities. The dynamic Land Development and Lease Management Tool allows airports to quickly evaluate potential development or lease opportunities for compliance with market-based land use plans, airport obstruction clearance, site development standards and/or available or expiring leaseholds, while considering existing master plans, zoning, and other development guidelines. With a few clicks, airport staff can adjust variables and analyze a variety of potential real estate development/lease and financial scenarios and develop situationally specific revenue models for rates of return and project break-even analyses.
This application is a proprietary software program of McFarland-Johnson, Inc., and protected under U.S. Patent No. 9,189,824.
Request More Information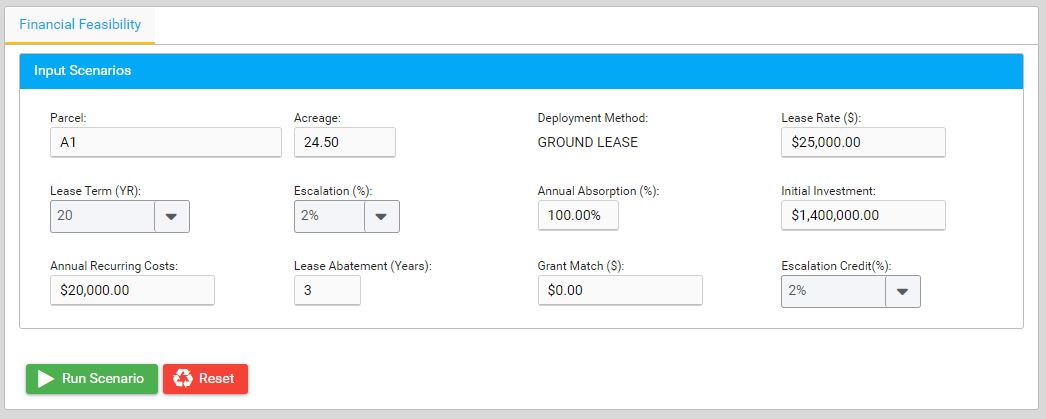 Input Your Custom Scenario
Define a scenario applicable to your unique situation
Benefits
Enhanced land planning and real estate portfolio management
Fully customizable development screening criteria and financial analyses inputs to match unique Airport needs
Land Development Tool
Video Demonstration
Features
Instantly analyzes land development scenarios and opportunities against available properties
Ability to screen alternate development opportunities and adapt implementation strategies to maximize the return on Airport assets
Quickly evaluates potential development opportunities for compliance with Airport development guidelines, plans, and other available data
Instantly calculates the estimated financial return that may reasonably be expected with each opportunity considered
Can be developed as part of new land planning efforts or utilize existing plans and data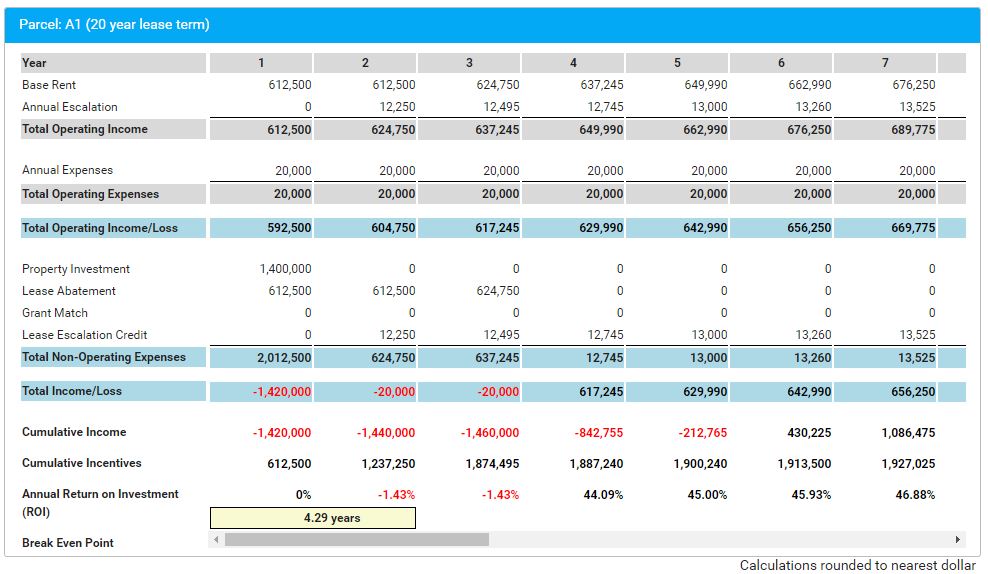 Receive Detailed Financial Output
See annual returns on investment and break even point
Compatibility
All of our solutions require web browser access and conform to the latest modern standards. It is necessary to use a browser that is compatible with these standards so that all functionality can be ensured. InfraSolutions strongly suggests the use of the Google Chrome browser, but you can find a list of all supported browsers in the grid below.












×
×
×
×